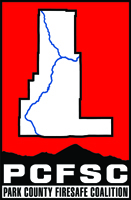 Park County Fire Safe Coalition
The Park County FireSafe Coalition (PCFSC) is a sub-committee of the Park County Fire Council and a member of FireSafe Montana.

The PCFSC's mission is to provide regional support for FireSafe Montana objectives at the local level through resources, education, and awareness of personal responsibility. FireSafe Montana's main objective is to mobilize Montanans to make their homes, neighborhoods, and communities fire safe. The coalition consists of representatives from Park County, Park County Rural Fire Department, Wilsall Fire Department, Northern Rocky Mountain RC&D, MSU Extension, and the US Forest Service.
The goals of the Coalition are:
To implement FireSafe programs
To provide fire education through information sharing and resource support with local fire departments & community groups
To develop PCFSC visibility in the community
To reduce hazardous fuels
If you are interested in gathering more information about or becoming involved with the PCFSC, please contact Greg Coleman, Park County Fire Warden, 406-222-4100 ext. 4176, or at gcoleman@parkcounty.org. We are working with your local Fire Departments to help your home, subdivision, and/or community become more safe and aware prior to a wildland fire.

FIRE SAFE MONTANA - November 2013 Newsletter (Redirects to another Website)


FIRE SAFE MONTANA - September 2013 Newsletter


View PCFSC 2011 Newsletter

Miner Paradise Complex Overview Map


This link takes you to the up-to-date website page with information regarding the Pine Creek Fire.


Burn Permits
Burn permits may be purchased and managed online at the following link: Online Burn Permits. Permits are also available at the County Clerk and Recorder, Accounting, and DES offices. Permits are also available at Rural Fire #1 from 8am - 1pm across from the Rib and Chop in Livingston. If you have questions, please contact your local fire department or the county Fire Warden at
222-4188. View Contacts
RFD#1 Safe Burning Information
Chief Dann Babcox writes this information sheet for residents. View
Wildfire Protection Plan 2014


List of Approved Fuels Reduction Forestry Contractors

Fuels Reduction Standards

Fire Safe & Forest Stewardship Programs Annual Report for 2011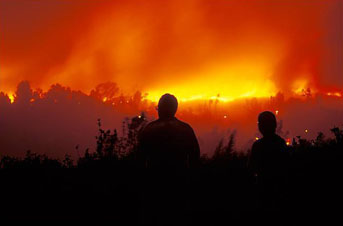 Be FireSafe, FireWise and Fire Ready
You are your best chance of preserving life and property when wildfire strikes. It is often too late when fire is on the ground. You can protect your family and home with simple and effective measures that, when combined with the efforts of your neighbors and local fire departments, can protect your community from fire.
We live in an area where fire is part of the natural ecology; fire has shaped the land we love. Together, we can create a community that is ready for the next wildfire.
Learn how you can better protect your property from wildfire
Gallatin County Extension and the Northern Rocky Mountain Resource Conservation & Development Area, Inc. (NRM-RC&D) partner to assist landowners in Park, Gallatin, and Meagher Counties with creating survivable space around their home to reduce the danger from wildland fires. This program also addresses best management practices, forest stewardship, and tree insect and disease issues. The program provides technical assistance for landowners to develop and implement a hazardous fuels mitigation plan or a forest stewardship plan. Through grant funding we are able to provide cost share assistance to landowners who implement a plan. The grant funds assist landowners with paying for fuels reduction and forest health work (clearing, thinning, trimming vegetation). A Natural Resource Agent provides direct technical assistance to guide landowners through this process. $251,000 grant dollars was awarded this year to the Hazardous Fuels Reduction Program.
Steps and additional information you can do to make your land/home more safe from Urban Wildfires.

Home Evaluation form for MT Dept. of Natural Resources & Conservation