Maritza Reddington - Clerk & Recorder/Election Administrator/Surveyor
Deputy Clerks: Jan Buckner, Lisa Sedgwick, Patti Smith, Albert Swain
It is the goal of this office to serve the citizens of Park County efficiently and impartially; to maintain records at a maximum level of efficiency for the benefit of public accessibility; to hold accurate and open elections.
Mailing Address: 414 East Callender St, Livingston, MT 59047
Phone #: 406-222-4110
Email: clerkrecorder@parkcounty.org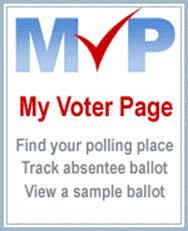 Link to Montana's Secetary of State's Voter page for Voting Information including: How to Vote, How to Register, Voting for Students, etc.

Absentee Ballot Request Form


Voting for the Disabled: Video Information
Military Domestic, Military Overseas & Civilian Overseas voters click here to register to vote and receive an electronic ballot:
Click on the link above for answers to all your election questions. This website was created by the Montana Association of Clerk & Recorders and has a wealth of election information.
Montana Secretary of State Website
2018 Official Federal General Election Results
2018 Primary Federal Election Results
2018 Candidate Filing Information
2019 Declaration of Nomination
2018 Statement of Candidate (finances to state)
Election Judge Training 1/2018
IDoc
Access Park County recordings back to March 13, 1972 at 11:00 a.m. with iDoc. Locate, view indexes/details & print images. A valid contract is required. Click above icon to begin search or contact office
Document Research Link
Document Standards
District Maps
It is the statutory responsibility of this office for recording and maintaining the majority of all legal documents relating to real estate records, subdivisions and certificates of surveys, records of commission meetings, vital statistics, and serves as the election administrator as per 13-1-101 (9) and 13-1-301 MCA.
This office annually prepares for and conducts state & county elections as well as municipal, water, fire & special elections held under Title 13 MCA. In addition to election work, the staff maintains voter registration records for approximately 11,000 electors, and checks signatures to certify several different types of petitions.
We are restricted by law to provide legal advice. Please contact an attorney licensed by the State of Montana, or check state statutes at the Park County Law Library.
See Montana Code Annotated 2015
Deeds
Mortgages
Easements
Financial Statements/Liens
Certificates of Survey
Subdivision Plats
Oaths of Office
Powers of Attorney
Park County Contracts
Park County Resolutions
Election and DatesSchool Election: First Tuesday after the first Monday in May, each year.
State & County Primary: First Tuesday after first Monday in June, even years.
State & County General: First Tuesday after first Monday in November, even years.
City Primary: First Tuesday after second Monday in September, odd years.
City General: First Tuesday after first Monday in November, odd years.