Museum staff and volunteers create at least one new interpretive exhibit per year. Click here for a 360-degree virtual tour of the museum! (Courtesy of Henry Harrison.) Current exhibits are listed below. In addition, changing photo exhibits, featuring photos from our collection, are at Park Photo, 115 S. Main, Livingston, Montana.
Megafauna: Ice Age to Our Age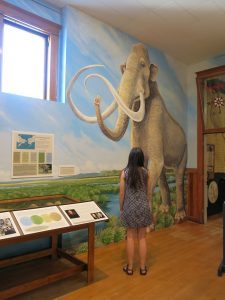 A new exhibit explores the last Ice Age in the Park County, Montana area and the megafauna that lived here, including the Columbian mammoth.

There are several megafauna species that existed during the last Ice Age that still exist today, including bears, wolves, coyotes, and bison. In addition, various bison species are discussed.

Located on the Upper Floor Landing.
Pull Up a Chair: Tales from the Seats of History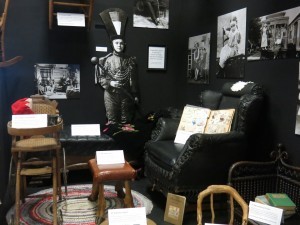 An exhibit of twenty-eight chairs from the museum's collection; each chair tells a unique story about local people or businesses, including the Northern Pacific Railway. Short labels give a summary of each chair's story and its full history is interpreted in notebooks that accompany the exhibit. Several photographs of people in chairs are displayed on exhibit walls as well as in the notebooks.

A fainting couch, grinding bench, hand-forged dining room chair, sidesaddle, ox-hide ranch chair, potty chair, convertible stroller/highchair, a mangle'schair, 63 Ranch rocker, barber chair, railroad-related chairs, and others are included.

Visitors will have the opportunity to vote on their favorite chair and story; results will be posted and periodically updated in the exhibit notebooks and on the museum's Facebook page.

Located in the Pioneer Room.
Celebrating Yellowstone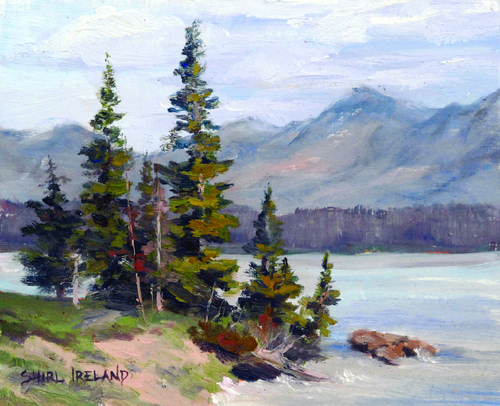 A multi-media juried art exhibit and sale showcases Yellowstone artwork created to honor the park's 150th anniversary in 2022. Artwork will be on display this summer and available for purchase. Since the park's inception countless artists have been inspired by the natural beauty found there—the tradition continues! The exhibit will also be located on the first floor landing.

Located on the second floor landing.
On Fire: Structural and Wildland Firefighting
The progression of firefighting history in Park County and Yellowstone National Park, including the park's epic fires of 1988, is interpreted. Fire suppression artifacts, compelling stories of fire and firefighters, and stunning photography are included; expert fire-safety tips are available to take home. Youth can try on firefighter helmets, jackets, and boots or visit the Smokey Bear web site while at the museum. Visitors are surrounded by a lodgepole pine "forest" while a slurry bomber replica flies overhead.

Located on the first floor landing.
Honoring Park County Veterans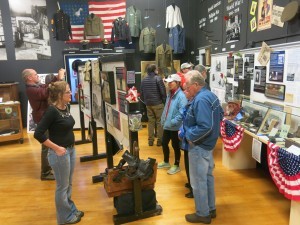 A chronological presentation of veterans' inspirational and poignant stories, their photographs, uniforms, as well as souvenirs and spoils of war. Dating from the Civil War to present day, the exhibit pays homage to local servicemen and women. The home front during World War II is also interpreted.

On Veterans Day 2017 museum staff and volunteers opened a new First World War exhibit, featuring new stories about servicemen and women, large-format photographs by John C. Haberstroh of soldiers in Livingston, and many WWI artifacts.

In 2022, the museum added "A History of Service: Park County Vietnam Veterans" to the military exhibit. Twenty-three biographies of local Vietnam veterans and newly displayed artifacts expand the museum's first-floor military exhibit. The exhibit commemorates the 50th anniversary of the Vietnam War.

The museum actively gathers veterans' stories and adds new components to its military exhibit every other year. If you or your family members are past or current Park County residents and have stories to contribute, please click Veteran's Form for a downloadable page you can complete and return.

Located in the Pioneer Room.